Lip balm is an essential product for healthy lips. If you are making your own lip balm products then having professional grade but affordable lip balm labels is important. Our material is glossy, waterproof and bubble-free for easy application to a standard sized lip balm container. Want to make lip balm labels at a different size (than standard lip balm containers) then click here.
$9.99
for 1 page of labels
Learn More
Learn More
More About Lip Balm Labels
Everyone loves the cool relief of their favorite lip balm... now, turning up the cool factor is easy with custom lip balm labels and chapstick labels from StickerYou! Lip balm is not only practical, it can also serve as a uniquely eye-catching party favor or swag item, and it deserves its own unique and eye-catching lip balm label! Use custom lip balm, chapstick, or lip gloss labels to send guests save-the-date reminders for winter weddings, personalized invites or party favors for parties or showers, stand-out swag items for networking events or trade shows, and of course create beautiful custom lip balm labels for DIY beauty product enthusiasts.
StickerYou's online label editor with lip balm label templates lets you easily create labels for various sized lip balms, lip glosses, lip tints, and chapsticks using your own logos and designs. You can also take customization to the next level by creating custom labels from your favorite photographs. All of our lip balm labels feature bubble-free adhesion, and can be applied as smoothly as your lip balm itself. We also offer no minimum order quantities on our customized lip balm labels, so you can easily and economically order different custom labels and designs before deciding which label works best for you. Make your balm the bomb with incredible customized lip balm labels and chapstick labels for StickerYou.
Frequently Asked Questions:
Q: How do I know which label material my lip balm labels will be?
A: When it comes to choosing a label material for your lip gloss labels, you have a few options. If you're ordering a lower quantity or small batch (ie. less than 250 units), you can have your lip balm labels printed on either white or clear vinyl. This comes down to personal preference - white vinyl is great if you'd like opaque colors and a white or colored background, and clear vinyl is excellent for a sheer finish with a clear background. If you're ordering more than 250 units, you can also have your lip balm labels printed on rolls. This means that you could get into more specialty finishes, like foils, scratch and sniff, and more!

Q: What's the difference between a sticker and a label?
A: There's not a huge difference - you can order either product for your lip balm products. In general, we refer to a product as a "label" if it's being applied to a product, but you can also call it a sticker if you'd like, as technically you are sticking it on! We also often refer to a product as a label if you're having it printed on a roll, as typically people use roll labels in order to brand and package their product. If you need some help deciding what product is best for your quantity and use case, feel free to as usk for help! You can contact our sales team at [email protected], we're here to help.

Q: I'm looking for a specific brand color on my lip balm label, do you offer Pantone matching?
A: Unfortunately not, however, we can convert your Pantone colors to CMYK! With our digital printing processes, we print all of our products using CMYK inks. We recommend you design your print files in this color space, as what you're seeing on screen will closely match what you receive when your product is printed. This will also avoid you having to convert your files from RGB to CMYK. In general, RGB color space is typically used to display screen colors, meaning that it offers colors that can't necessarily be printed using the CMYK print process.

Q: How do I know the exact size I need for my lip gloss labels?
A: We offer a standard lip balm label template that you can use to customize and make your own personalized labels. This size is meant to fit most standard lip balm sizes. If you'd like something custom, you can simply upload your artwork directly to our Sticker Maker. You'll be able to completely personalize your design, shape, material, and quantity. We recommend you physically measure out your lip balm tubes prior to ordering, to ensure the size you receive will perfectly fit your products!

Q: How durable are custom chapstick labels?
A: We pride ourself on durability and product quality! We print our vinyl pages on a durable, waterproof, and weatherproof material. This means that your lip balm labels will remain in-tact and vivid for their product lifetime. If you have more of an industrial product and would like added durability, we also offer a permanent vinyl material, and can UV coat your labels. However, if you're making packaging for your lip balm labels, our standard vinyl will definitely be more than suitable.

Q: I need help with my artwork, do you offer design services?
A: Yes, we do! Contact [email protected] and a member of our team will help you with your order.

Q: Is there a minimum order quantity for lip balm labels? I'm looking to make just a few to start off.
A: There is no minimum quantity, you can order as little or as many as you're looking for!

Q: Can I order my lip balm labels on clear vinyl material?
A: Absolutely! Click the Make Labels Now button above. From there, select upload your own design, then same design printed on rolls or hand-outs so clear vinyl will show up in the editor. Once you're in the editor you can select clear vinyl material for your labels! Need help? Contact [email protected] and our team will be happy to assist you.

Q: How easy is it to apply roll vs. page labels to my products?
A: Pages are a great choice if you plan to apply your labels by hand to curved product packaging, such as jam jars. Their vinyl material is somewhat stretchy making them easier to apply. It's also bubble-free, allowing air bubbles to egress out before the adhesive fully attaches to the product. Pages are a popular choice for jam and sauce jars as well as health and beauty products.
Roll labels are ideal for applying onto flat (not curved) surfaces, such as a paper bag or cardboard box. The variety of material finishes they come in, their permanent adhesive, and their cost-benefit when ordering larger quantities, are definite advantages. Roll labels are a popular choice of bakeries, coffee shops, clothing stores, etc.

For larger orders of labels that will be applied by machine, rolls are the only option as machines will only accept rolls.

Q: I think I made a mistake with my order, how can I contact you?
A: Do not fret! We have a whole dedicated team to ensure you receive the exact product you want. You can contact us by e-mailing [email protected], and one of our reps will reach out to you to correct the situation. If you already received your product and aren't satisfied, please reach out to us so we can remedy the situation!

Q: What format can I upload my artwork in?
A: With our editor, you can upload your artwork as a Jpeg, PNG, Gif, or PDF file. If you have a different format, contact [email protected] and we can look into it with you.

Q: I want to make my lip balm labels a specific size of 3"x2.75". Is this possible, I only see template sizes available above?
A: The templates in the Make Lip Balm Labels link above are a guide for standard sizes. If you go to the Create Now button at the top of the website you can create your lip balm labels at any size you're looking for down to the 0.1". Can't get the exact size you need? Contact [email protected] !

Q: I'm creating my lip balm labels in the sticker editor but I don't like the font selection. What do I do?
A: If you contact [email protected] with the font you have in mind, we can help look into it with you.

Q: Can I order lip balm labels as matte instead of glossy?
A: For sure! Click on the link above for Make Labels Now. Once you have your artwork uploaded, in the product options in the editor, there is a drop down for material choice. In there, you can select Removable White Vinyl (matte) for your labels.

Q: What's the standard size for lip balm labels?
A: The standard size we have found to be is 1.75"x2". If you click on the Make Labels Now button above, it will bring you to a template at that size. If you want a different or a specific size, click on the Create Now button on the top of the page and you can adjust the size down to the 0.1" you need!
Product Features
Writable with Permanent Marker
100% Satisfaction Guaranteed
Removable Without Residue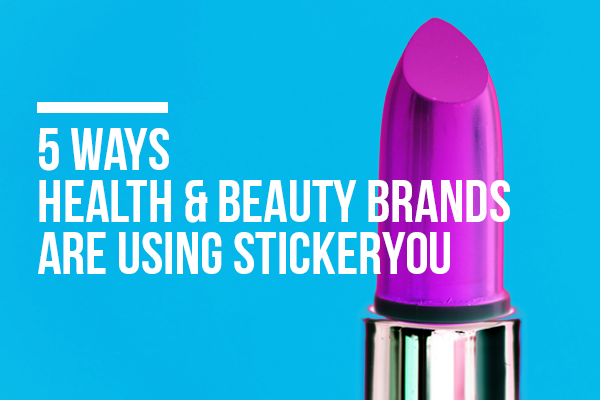 When it comes to products and packaging, it's important to set yourself apart from the rest of the crowd
---
Reviews (1857)

8/15/2022
LOVE STICKER YOU! IVE BEEN GETTING MY STICKERS FOR MY BUSINESSES MADE HERE FOR THE PAST FEW YEARS AND THEY ALWAYS TURN OUT GREAT. I ALSO GET MY ORDER SUPER FAST! THANK YOU :)

Miracle W.
Verified Buyer
8/7/2022
Customer service was great

Claudia C.
Verified Buyer
8/4/2022
Exactly how I imagined they'd look! They are removable but they still stick on very well! Will order again!

7/28/2022
Excellent quality! Print quality was great. Labels last a long time and really are removable.

pamelyn s.
Verified Buyer
7/27/2022
Very pleased with the service and product.