Make your own Honey Labels at StickerYou! Custom made, high quality, glossy material for your honey to make it that much sweeter. Choose a design or create your own. You'll be as busy as a bee when you discover StickerYou's Honey Labels!
$9.99
for 1 page of labels
Learn More
Learn More
More About Making Honey Labels
Whether you're a hobbyist or a pollen pro, making artisanal honey has never been more popular; and with StickerYou, creating beautiful honey labels is totally customizable and has never been easier! You can choose from a wide selection of templates with our online editor, or upload your own beautiful custom label designs. Since all of our honey labels are customized for all your honey needs, they are guaranteed to fit any glass, mason, or Bernardin jar you're using (you can even get them to be the perfect fit for the lids of your jars). They can be cut into any shape (not just honeycombs), so even the most intricate of honey logos can still be the star of your honey jar. For a sleek and modern look, get your labels printed on clear vinyl; let your honey do the talking, without compromising your personal brand's aesthetic! For an elegant and classic look that never compromises on vibrancy, try our matte vinyl finish for your custom honey labels. All our custom labels are made with quality vinyl, so they'll adhere to your jars smooth and bubble-free. Your honey won't be the only thing that sticks, because our custom labels are waterproof, dishwasher safe, and can even go in the microwave! Let everyone see what the buzz about your honey is with StickerYou's custom honey labels.


Frequently Asked Questions:
Q: How do I know what size is best for my honey jar labels?
A: If you click the "Make Honey Labels" button at the top of the page, you will see a variety of templates that we offer. These templates come in different shapes and sizes to accomodate for a large range of different jar types. In order to ensure you order the correct size, we recommend measuring you jars prior to ordering, so you have a good idea of what size would work well for your application. If you're looking for something uniquely shaped or sized, or would like to create something custom from scratch, you can upload your artwork directly to our Sticker Maker in order to create your own personal honey labels.

Q: How many honey labels can I order?
A: Feel free to order the exact amount you need! Thanks to our digital printing technology, we have the ability to print orders of all shapes and sizes. If you're making a small batch of product, or have a wide variety of product types that need different artwork, you can order as little as one single page of honey labels! You can also choose to print different shapes, sizes, or designs on the same sheet, allowing you to test out different styles of branding. Keep in mind, as you order more pages, the cost per page decreases - so it's never a bad idea to stock up!

Q: I need to order a large amount of honey jar labels, what product is best for me?
A: If you have a larger quantity order in mind (generally over 250 units), we often recommend you order roll labels. Our roll labels have a minimum order quantity of 250 labels, which means they're often reserved for larger-scale production. This is a cost-effective solution, as the cost per label decreases drastically as you increase your quantity. If you need some help deciding which roll label material is best for your use case, check out this blog post!

Q: Can my honey labels have a clear background?
A: Yes they can! One of the amazing material we offer is clear removable vinyl, which is a transparent yet durable vinyl. This allows you to print on a transparent background if you'd like - but you can also select a background color if you only prefer the semi-transparent look of clear vinyl. In terms of packaging, clear vinyl is an excellent option, as the transparent areas of your honey jar labels can showcase the product behind the packaging! If you prefer an opaque material with a white or colored background, your best bet would be to print on our white vinyl.

Q: I need help with my artwork, do you offer design services?
A: We do! Contact [email protected] and a member of our sales team will help you with your order.

Q: I'm looking for a specific style for my honey jars labels, is this possible or can I only make them through the templates provided?
A: Absolutely you can! You can click on the Create Now link at the top of this page and create the labels as you want them with your own designs with just a few clicks! Need help? Contact [email protected] and a member of our team can get back to you.

Q: Are honey labels writable?
A: For best results we recommend using a permanent marker to write on them. If you are ordering a large amount of labels and are needing to write on them, you could create your labels on our writable matte roll labels at the link here- https://www.stickeryou.com/products/writable-roll-labels/703


Q: I want to order more than one product with the same artwork, is this possible or do I have to re-do it every time?A: Once you have your artwork ready to go and you're in your cart, click on the "duplicate" button and it will bring you back to the editor. From there, you can keep adding different products from labels, to tattoos or patches and more until you're ready to order!

Q: I think I made a mistake with my order, how can I get in touch with you?
A: You can reach out support team by contacting us at [email protected]. We are happy to assist you with whatever you need! Please include your order number and a description of the issue/change, to ensure we can help you out as soon as possible.
Q: What's the smallest size I can order honey labels at?
A: With our editor, the smallest size you can order labels at is 0.75"x0.75". If you need smaller still, contact [email protected] and we can look into it with you.

Q: I'm creating my honey labels in the editor but I don't like the font selection, what do I do?
A: If you contact [email protected] with the fonts you have in mind, we can look into it further with you and set you up with a custom order.




Product Features
Writable with Permanent Marker
100% Satisfaction Guaranteed
Removable Without Residue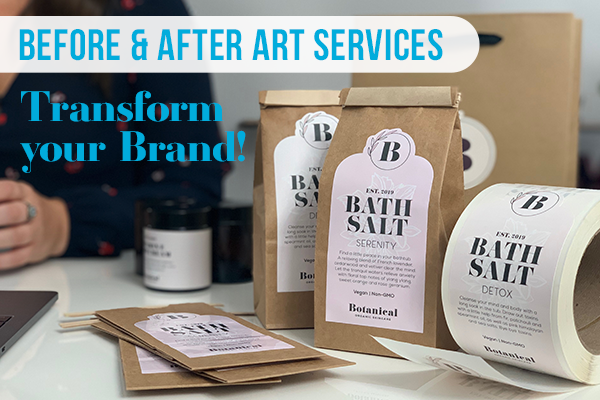 Take a peek inside the world of art services and transforming your brand!
---
Reviews (1857)

8/15/2022
LOVE STICKER YOU! IVE BEEN GETTING MY STICKERS FOR MY BUSINESSES MADE HERE FOR THE PAST FEW YEARS AND THEY ALWAYS TURN OUT GREAT. I ALSO GET MY ORDER SUPER FAST! THANK YOU :)

Miracle W.
Verified Buyer
8/7/2022
Customer service was great

Claudia C.
Verified Buyer
8/4/2022
Exactly how I imagined they'd look! They are removable but they still stick on very well! Will order again!

7/28/2022
Excellent quality! Print quality was great. Labels last a long time and really are removable.

pamelyn s.
Verified Buyer
7/27/2022
Very pleased with the service and product.